Email has been the favorite communication channel of marketers lately. Coupled with social networks, it helped them maintain a close relationship with their customers during the confinement period. We are rediscovering today the forgotten aspects of Email Marketing in some way. It should not be used only to promote products but also be considered as an important channel of interactions creating Loyalty between the brands and their audiences.
So how to use Email Marketing to relaunch your activity? At Splio, we thought long about the ways customers and (r)etailers should interact by email, and we finally came up with 10 guidelines to integrate Email Marketing as a key tactic to support, activate and relaunch your activity. By clearly aligning one core message with one specific objective, email marketing campaigns can appear very performant and very likely reach the expected results.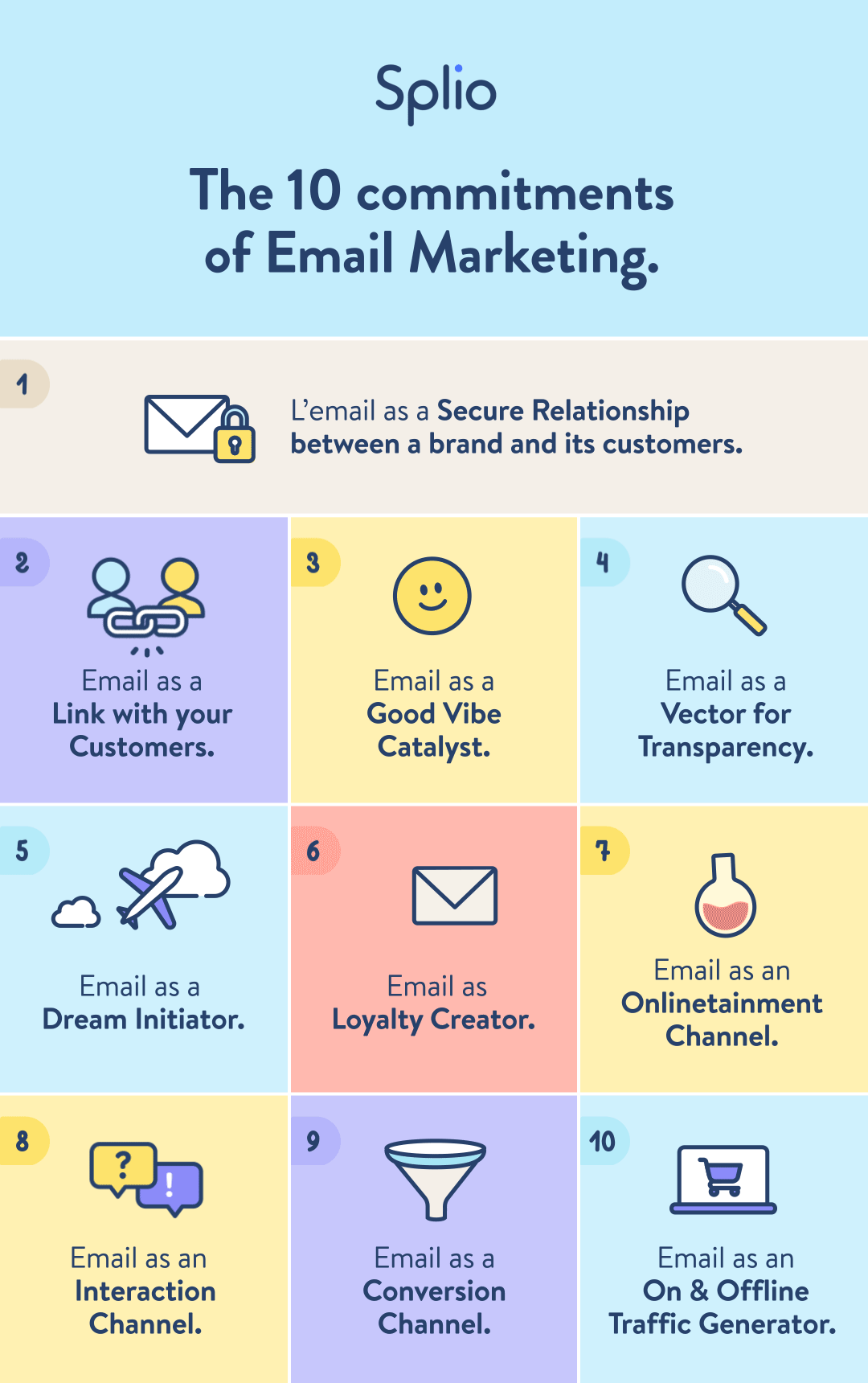 #1 – The Email as a Secure Relationship between a brand and its customers.
Before implementing your email marketing strategy, you need to secure your campaigns to protect your customers against phishing, spamming and abuse. Here are some best practices and rules to respect in terms of delivrability during a crisis period.
#2 – The Email as a Link with your Customers.
Despite this period, your customers are looking forward to hearing from you. Use email to tell them that you care like Chocolate retailer La Maison du Chocolat. And don't hesitate also to share your tips & know-how like Intersport. They invite their customers by email every week to participate to a session of Sports with no special equipement required.
#3 – The Email as a Good Vibe Catalyst.
Because we are living a hard time, consumers are only looking for one thing: be alerted for good news and good vibes. Why don't you change a little bit your angle to share with them each week some positive energy? As an example, we approve 100 percent Un Jour Ailleurs' s refreshing approach.
#4 – The Email as a Vector for Transparency.
Tell your audiences about the initiatives you are being part of as a collective effort, like Le Slip Français, or you can also let them know about the challenges you are facing. Customers are willing to know more and to hear about what you are going through. Transparency is an asset in situation of crisis.
#5 – The Email as a Dream Initiator.
Your current communication strategy will serve your post-confinement sales strategy. Send an email to your customers to guide them into your common future like Delsey.  The brand offers its customers to take advantage of the confinement "to build their souvenirs of tomorrow".
#6 – The Email as Loyalty Creator.
Even though your brand did not register as many transactions as usual, your loyal customers are still there! Loyalty is no longer about transactions only but also about interactions on the web and socials. Today's openers and clickers are probably tomorrow's purchasers!
#7 – The Email as an Onlinetainment channel.
Consumers are more than ever connected. Take advantage of your marketing email strategy to entertain them by offering different content from usual and by organizing game contests.  Atelier Cologne's newsletter proposed colorings ready to be printed and colored!
#8 – The Email as an Interaction Channel.
Seize the opportunity of this period to put consumers at the heart of your strategy by involving them, asking their opinion. It is what Balzac Paris is doing by asking its contacts via an online form if the re-opening of their delivery service is an option, while presenting them of course the sanitary measures taken by the logistic partner.
#9 – The Email as a Conversion Channel.
Back to campaign management: Le Slip Français converts up to 10 times more by using automation in its campaigns with Splio, combined with the right segmentation and in the respect of the best practices in terms of delivrability.
#10 – The Email as an On and offline Traffic Generator.
Confinement or not, the email is the most performant channel in terms of online traffic generation. Of course, consumers are more willing to navigate online today rather than purchase online, but nothing is stopping them to create a wish list and add to cart to purchase later. Jump at the chance to remind them that your e-commerce website is still open like Bonne Maman. On the offline side, new habits like Click'n'Collect could be a solution to accompany progressively the reopening of the stores. By integrating Mobile Wallets to your email marketing strategy you would be able to drive your customers to the best approach.