Splio acquires Tinyclues
to become the European leader in AI-powered CRM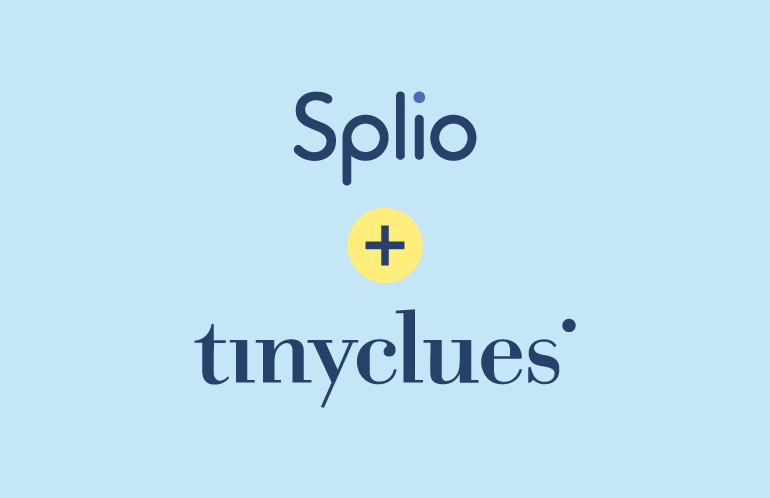 Splio and Tinyclues join forces to embed Tinyclues' deep learning intelligence into Splio's CRM platform and become the European leader in AI-powered CRM
Paris, March 14, 2023 - Splio, CRM expert and developer of the SaaS Individuation® marketing platform, is proud to announce the acquisition of Tinyclues, the specialist in SaaS predictive marketing based on deep learning AI. This acquisition fulfills a shared ambition to enable brands to easily orchestrate large-scale, hyper-personalized marketing plans.
Splio works with more than 400 brands, including Decathlon, Longchamp and Orange, and has been developing its own Individuation® marketing solution since 2021. Based on machine learning (AI), this solution addresses the dual challenge currently faced within CRM: how to personalize the customer experience for each individual whilst offering marketers a simple solution for large-scale orchestration.
The technological power of the Tinyclues platform increases the value proposition of Splio. A recent winner of both the Sammy and MarTech Breakthrough awards, Tinyclues is currently the most powerful predictive engine on the market, since it is the only one fueled by Deep Learning. It allows for the automated processing of huge volumes of first-party data for precise customer behaviour prediction. Over 100 brands use Tinyclues on a daily basis, including Veepee, Fnac, Accor, Samsung, Tiffany & Co and SNCF Connect.
The acquisition of Tinyclues thus enables Splio to establish itself as the European leader in AI-powered CRM thanks to its Individuation® marketing software, which can be rapidly and easily deployed across all industries and for companies of all sizes.
AI has become the new standard for better understanding customers and personalizing large-scale marketing communications regardless of industry or business size. Individuation® marketing based on machine learning was an initial response to these challenges. The Tinyclues platform, based on deep learning, strengthens our leadership, and provides new opportunities for sectoral and geographical growth." Mireille Messine, CEO of Splio.
"For a long time, Splio and Tinyclues have shared the same vision of CRM and the same 'one-to-one at scale' ambition for clients. Joining Splio enables our deep learning platform to express its full potential by allowing brands to carry out predictive marketing, including customer management and activation." David Bessis, CEO of Tinyclues.
As a result of this acquisition, Splio now has 250 employees in Europe and the MEA and a portfolio of 500 business clients, from medium-sized companies to large groups from a large range of  industries (retail, restaurant, telecoms, travel, hotel, leisure...), with an annual recurring revenue of over €30m.
*ARR: Annual Recurring Revenue
About Splio
Splio is a Martech company headquartered in Paris, with 200 employees, 90 of whom work in Product and R&D, and five offices in Europe and the MEA. Splio provides a SaaS Individuation® Marketing platform to B2C customer marketing professionals. The company has a portfolio of more than 400 brands, from medium-sized enterprises to major groups from four key industries (retail, e-commerce, restaurant and telecom), including Longchamp, Decathlon, Rue du Commerce, Nicolas, Brioche Dorée and Orange.
Splio aims to empower marketing automation with Individuation® enabling companies to activate and engage each of their customers on a case-by-case basis in a unique relationship using AI. The Individuation® Marketing platform is based on a one-of-a-kind innovation, that automates each day the most relevant communications to the most appropriate channels for each one of a companies' customers. The platform is uniquely capable of calculating the optimum based both on a company's objectives and on the appetencies of each of its customers.
Mireille Messine is the CEO of Splio and Grégory Chapron the Co-CEO. Investors include Sofiouest, Ring Capital, BPI-FAN, Omnes, Seventure, Amundi PEF, BNP Paribas Développement and SWEN.
About Tinyclues
Tinyclues is a MarTech company whose precision-AI targets individuals based on buying propensity. Over 100 brands currently use the solution, including Veepee, Fnac, Accor, Samsung, Tiffany & Co and SNCF Connect.
Tinyclues' cutting-edge technology analyses often-ignored first-party data signals so that CRM teams can accurately predict customer purchase intent and easily orchestrate complex marketing plans.
Tinyclues was the winner of the SAmmy Award for Product of the Year in 2021 and the Martech Breakthrough Award for Best CRM Solution for Enterprises in 2021 and 2022. Tinyclues has been listed as a 'Vendor to Watch' in Gartner's Magic Quadrant for Digital Marketing Analytics and as a 'Cool Vendor' within its Multichannel Marketing Report. In addition, G2 awarded Tinyclues the 'Users Love Us' and 'High Performer' certificates in 2021 and 2022.
Tinyclues' investors include ISAI, Elaia, Alven Capital and EQT Ventures.
Press contacts