WeChat Mini Program is all-pervading in various walks of life during the last three years. According to Tencent's latest data releasing in the WeChat Open Class Pro 2020, the DAU of Mini Program reached 300 million in 2019, and the value of transactions across Mini Program exceeded RMB 800 billion with 160% year-on-year increase.
Brands use WeChat Mini Program to reach their customers with a cost-effective way for users to easily access content, services and products. Indeed, in the age of the Internet stock market, the acquisition price is high and there aren't that many new users. To overcome the bottleneck of user growth, brands started to deep dive into the potential of existing customers and pay more attention to retention. Therefore, a loyalty Mini Program is getting more and more appreciated.
When marketers decide to have a loyalty program on WeChat, should they choose an integrated Mini Program with all functionalities including loyalty or a dedicated Loyalty Mini Program? And from what aspects do marketers should think over to have the most suitable Mini Program?
Differences between Integrated MP and Dedicated MP.
Mini Program came out in the context of a single app that is difficult to meet users' diverse needs, meanwhile, too many apps become the burden of mobile phones. Users like to use Mini Program because of its convenient, efficient and easy to access. What are the differences between integrated Mini Program and dedicated ones? What are the advantages and disadvantages of each type? Here is the comparison result in the following 5 aspects: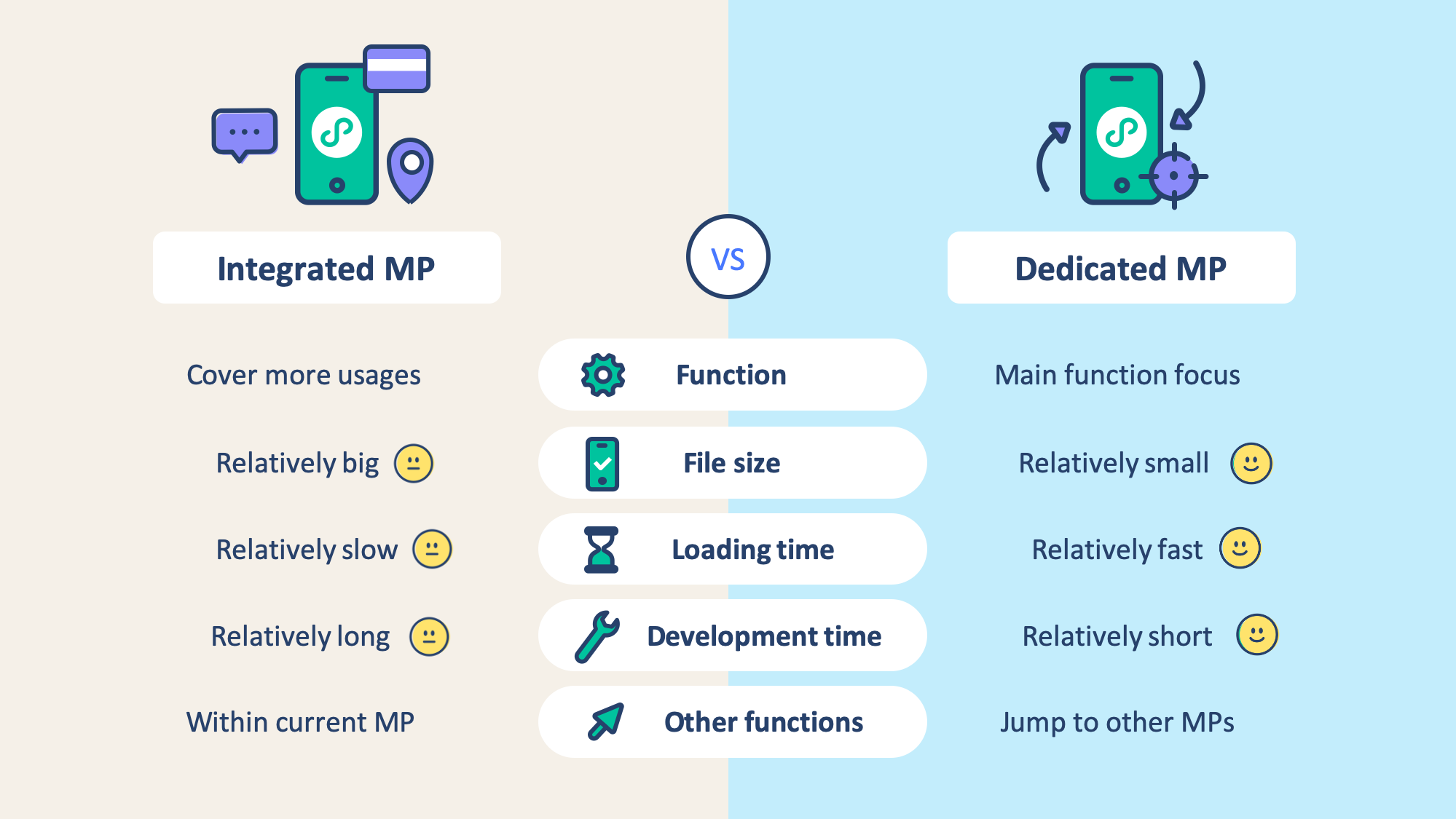 (Source: Splio analysis)
Brands need to consider own use cases.
After understanding the differences between the two type mini programs and before making the decision, marketers now need to consider own use cases in order to maximize the benefits.
What does the brand expect from the mini program?
According to the data survey conducted by iResearch in August 2019, the proportion of 1416 subjects who used WeChat mini program was as high as 90.4%, and 48.7% of participants using WeChat mini program more than 5 times per day. It has also been confirmed in Tencent's report that the average usage of mini program in 2019 has increased by 45%. It proves WeChat mini program performs extremely well in terms of both permeability and viscosity. Brands could use mini program to drive traffic from China's largest social traffic pool.
Does the brand have a native App?
Mini programs should NOT be a replication of a native App. If the brand already has own APP with all functionalities, a dedicated MP with focus function is a good choice. Conversely, if a new brand has no presence on the internet, using an integrated MP could be a good start.
How many mini programs does a brand need?
Firstly, brands should be aware of one enterprise entity can apply no more than 50 mini programs while one WeChat service account is allowed to attach to 13 mini programs maximum: 10 owned directly and 3 third party mini programs.
Depending on the requirement of diverse functionalities, most brands, in retail especially, would have more than 1 mini programs: one for E-commerce to complete the digital purchase and after-sales follow up, one for a loyalty program to record customers purchasing behavior and loyalty points, and another one for brand's KOC forum, etc.
What is the budget and timeline for building a mini program?
The development cost and time are actually different from a customized mini program and a templated one. For example, a fully customized MP need to go through all design and development process normally take 2-3 months while a templated MP can be launched within 1 month.
Regarding cost, a customized MP is calculated based on the staffing of the project team and manpower days. By contrast, a templated MP is much more affordable.
Mini program can reach users' comprehensive life layout through integrating online and offline, connecting different industries and sinking channels. Mini programs will interact with the Super APP to achieve mutual benefit and common progress.
For brands who are planning to enter or just entered the Chinese market, communicating with customers through WeChat mini program is no doubt the most cost-effective way. And for those who haven't had a loyalty program or are still using a traditional one, building a dedicated loyalty mini program can help you realize and enhance the interaction with consumers both online and offline in real-time.
Splio provides templated Loyalty mini programs to many brands for quicktime to the Chinese market and engage and retain customers on WeChat. If you want to know more details about Splio Loyalty and Mini Program development, you can follow us on WeChat and leave your questions.