Since WeChat users keep growing, the prevalence of WeChat service suppliers arose and introduced their "3 minutes to build a WeChat Loyalty Mini Program" product. But a successful Loyalty program is never just about having a UI providing digital membership cards, points and discounts features. No wonder many brands who had Loyalty programs failed to achieve an ideal performance in generating engagement with their customers. What do they do wrong? Before focusing on UI, brands should make sure their benefits and program rules are relevant to their Chinese customer expectations.
If you are a brand that owned a loyalty program but failed, or you are right about to implement one in China, this checklist may help you to exam or think twice BEFORE launching your Loyalty program:
1. Understand your brand situation.
What is your brand situation? In other words, what pain points or what KPIs do you expect your loyalty program to solve/ improve? It can be:
Increasing brand awareness
Gaining more repeat purchases
Encouraging brand advocacy
Improving your customer lifetime value, etc.
>> The first step is to help brands better self-exam and map your brand's marketing strategy.
2. Identify the market trends.
It is important to acknowledge that the Chinese market is ever-changing. Brands in China should adapt to the prevalence of omnichannel commerce as Chinese consumers require many touch points before buying:
Inspired by social media (WeChat, RED, Douyin, Weibo, etc.)

Referral by friends

Endorsed by KOLs or KOCs

Pay a visit to the physical stores

Compare price on various online sales channels (Tmall, Taobao, JD.com, PDD, etc.)

Engage with brand's customer service

Purchase while join in Loyalty Programs, etc.
>> The second step is to help brands think hard where to present to better engage with your existing customers and future customers on & offline and provide them a better use experience, as well as how you can differentiate yourselves across different channels.
3. Design the program for both customers' AND brands' benefits.
After understanding yourself and the market trends, brands should put yourselves in the Chinese customers' shoes, thinking about what benefits are relevant to them the most:
Identify who to reward

Identify and prioritize what behavior to reward

Estimate how much you value each behavior

Match up rewards with rewardable behaviors (Loyalty and social)

Define how to deliver them
>> This step is to help brands better learn about Chinese customers and look into what you can offer with the best-perceived value and lowest cost. Don't overrate your abilities and waste human and material resources.
4. Design your Loyalty solutions.
Once the program rules are set, you can then design the solutions:
What data are needed to execute the rules, at what frequency and what level of details?

Who can provide those data? External system? Ecommerce? PoS? ERP?

How to export/collect those data and link those data to your members?
>> The last step is to help brands better fulfill the data capture ability and make sure you can deliver the right message, at the right time, to the right person, and via the right channel.
Differences between European and Chinese CRM.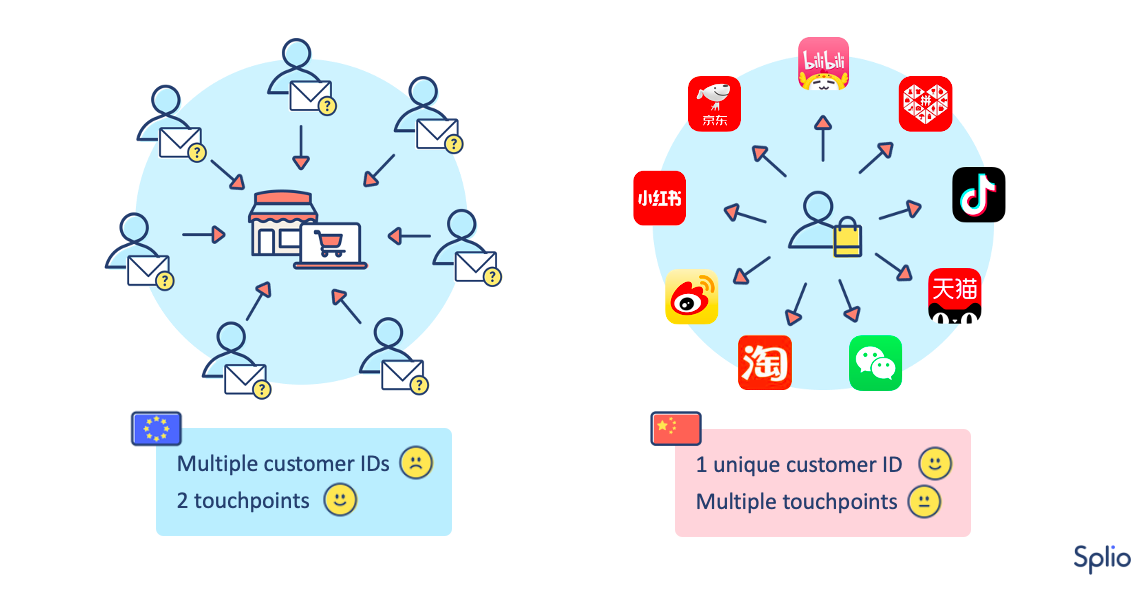 China makes it easy to identify your customers comparing to the European markets. However, the complexity comes from the number of touchpoints that make it difficult to track data and engage with customers via limited private channels.
Splio uses binding technology to gather fragmented customer information on & offline such as WeChat, Tmall, JD.com, etc. and build a single customer view through one single platform. You will then be free to link WeChat users and customers, segment and engage loyal customers with personalized communications, reaching high conversion rates from each customer lifecycle to meet your business goal.
If you are looking for a Loyalty expert who has both Chinese and European backgrounds, fully equipped with customer knowledges, as well as sharing the same vision of doing business in China, Splio will be the role! We are ready to help define your loyalty strategy and provide solutions to scale up your sales and achieve your business goal.

To get regular insights on how to develop and strengthen your Loyalty strategy in China, scan the QR code to follow us on WeChat!