Hi, this is Yaqi here!
Over the past eight years, Chinese Millennials like myself who have been studying, working and living in Europe have experienced the change from QQ to WeChat and its ecosystem.

In early 2018, a video of a French/Chinese influencer (信誓蛋蛋) went viral on bilibili (哔哩哔哩) and YouTube. He bluntly complained of the inability to use WeChat Pay in France and the inconvenience it caused. In reality, in November 2017 WeChat launched the payment system in two flagship department stores of Group Galeries Lafayette in Paris, but people are not much aware of the development of WeChat outside of China. So today, I will share with you my actual WeChat experience in Paris.
1. WeChat is bridging China and me.
WeChat was initially a chat tool to communicate with my family and friends. Gradually, it became my everyday must-check social media: I use Moments to mark the top check-in locations, update my reading daily attendance, comment on friends' posts, and read KOL's referrals on Official Accounts. Last but not least, I shouldn't miss any WeChat Red Packet War in my family chat group during the Spring Festival!
2. Connecting to the local Chinese community on WeChat.
WeChat makes a newcomer easier to connect to the local Chinese community. Shortly after arriving in Paris, I joined several local WeChat groups and followed a few WeChat Official Accounts to learn languages, meet new friends, and talk over schools, accommodations, and legal issues. Certainly, I'm always craving for Chinese food, especially Siu-mei, Lo-mei, bubble tea, Hot Pot, etc. So, searching for a good Chinese restaurant and making a reservation online through native apps or Mini Programs become my go-to schedule for every weekend.
3. WeChat public transport facilitation.
Today I use a monthly metro ticket in Paris, but when I forget it, by simply searching or scanning the QR code, I can purchase an e-ticket on the WeChat Mini Program and collect it in any physical ticket point. This is a new feature that the Parisian transport controller RATP launched in 2019. Its Chinese language interface, easy operation, and WeChat payment option have certainly brought Chinese tourists a great convenience for their trips to Paris.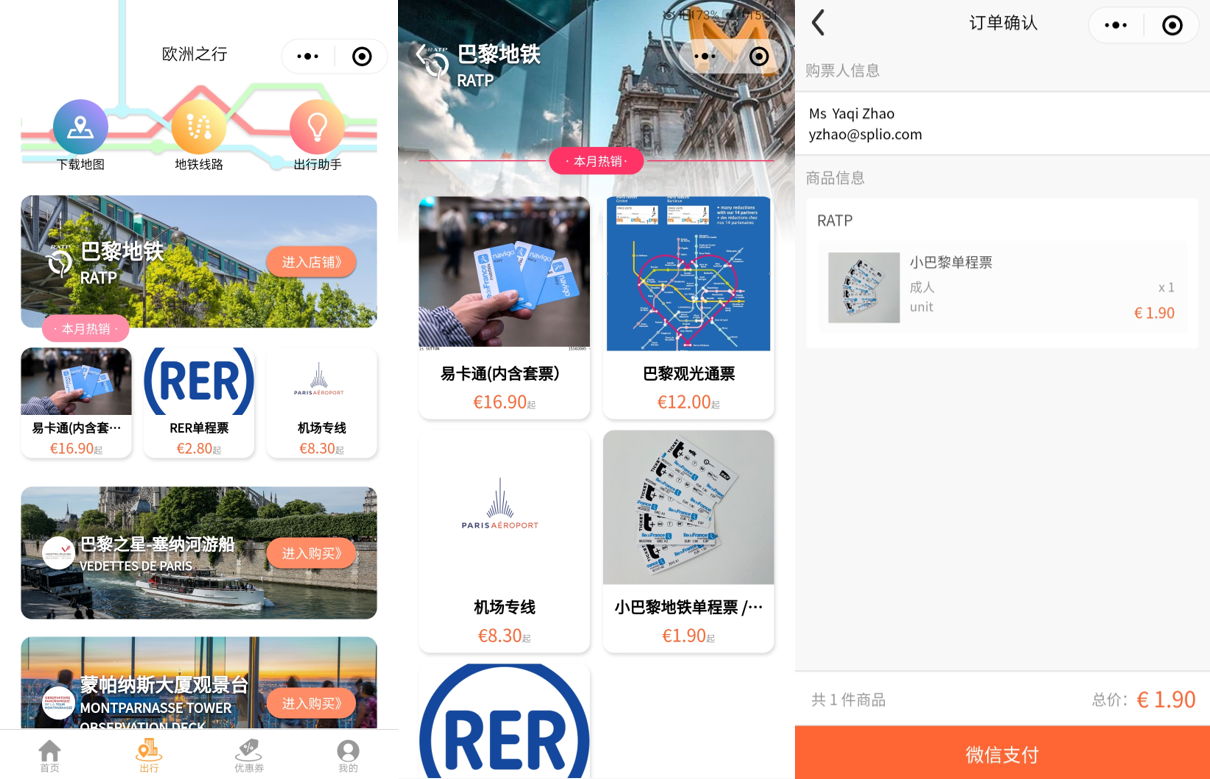 4. Easy shopping with WeChat.
In the past two years, I have been shopping more and more at Galeries Lafayette and Printemps as I can receive cash coupons by joining the loyalty programs. Besides, these prestigious department stores have also rolled out WeChat Payment to target Chinese tourists and local customers. Instead of bringing cash, mobile payment is much more convenient and efficient, and, most importantly, WeChat Pay's real-time exchange rate is the lowest among all cross broader payments plus it doesn't charge a commission fee.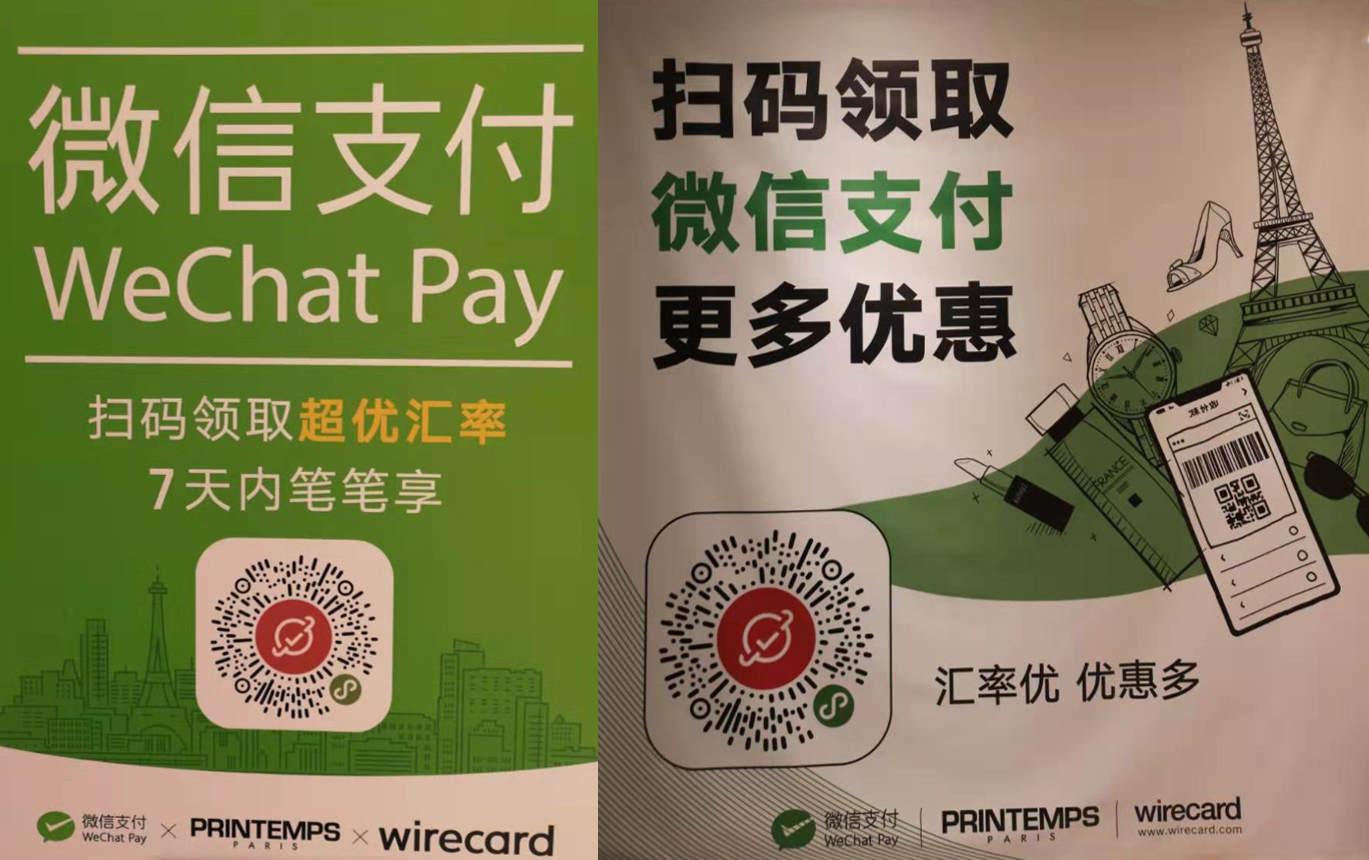 5. WeChat tax refunds.
Lately, I have been recommending a Mini Program called We Tax Refunds. It is a tax-free project developed by Tencent that offers Chinese travelers to get real-time tax refund services at airports. With this tool, refunds become quicker and deposit in RMB to users WeChat Wallets. Moreover, WeChat tax refunds are now available at 85 airports in 21 countries, covering the majority of departure airports in Europe and the numbers will certainly grow.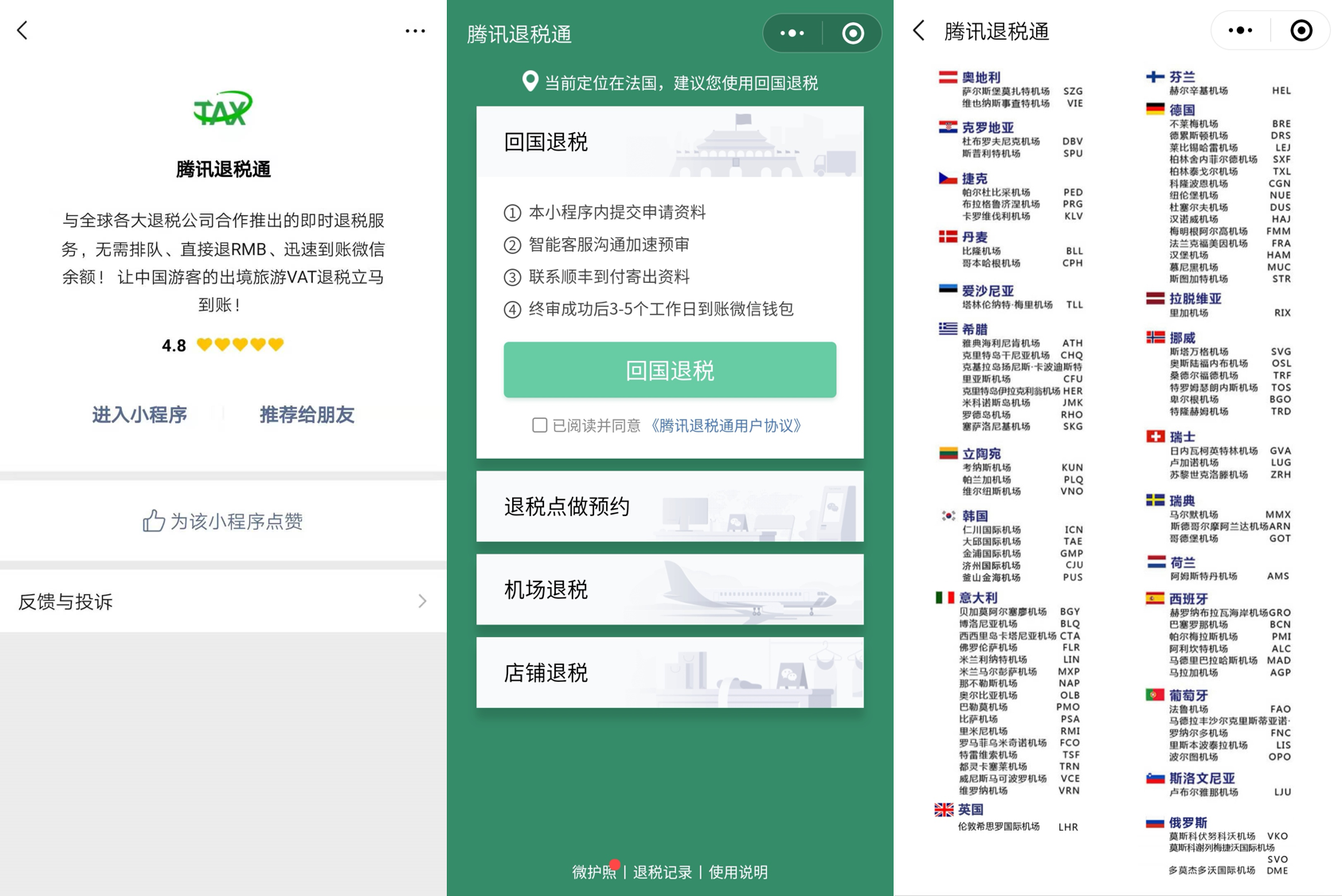 6. WeChat new trends.
Even though I had been keeping up with the latest Chinese trends, I still remember my innocent face and clumsy movements the first time using shared bikes, making short videos, experiencing Groupon and live-streaming e-commerce, ordering in a restaurant based on QR code, etc. when back to China for summer vacations. Chinese new tech and trends have impressed me year over year as they develop so fast and things are getting more accessible every day!
So far, WeChat has meet all my messaging, socializing and entertainment needs in Europe, but it must expand faster to allow Chinese people living overseas to experience the same convenience of mobile-first or mobile-only as in China. WeChat is still in the early stages of growth internationally and Europeans are seeing the potential of supporting the ability for Chinese to use WeChat anywhere in the world. Plus, digitalization and mobile seamless experience is a big priority here. We can predict that in the upcoming years, more and more European people will get to know about WeChat, more physical shops will roll out WeChat Pay, more European retail brands will develop their WeChat Mini Programs, and possibly brands will implement a unique global loyalty program on WeChat to enable coupons applying to whatever purchase without regional restriction. Sounds crazy? In 2014, 4G networks brought the WeChat ecosystem into realization. 5G networks will surely bring us further advances in this domain.
To get regular insights on how to develop and strengthen your Loyalty strategy in China, scan the QR code to follow us on WeChat!