Staying Ahead of the Game: King Jouet is Boosting Revenue & Customer Experience with Campaign Intelligence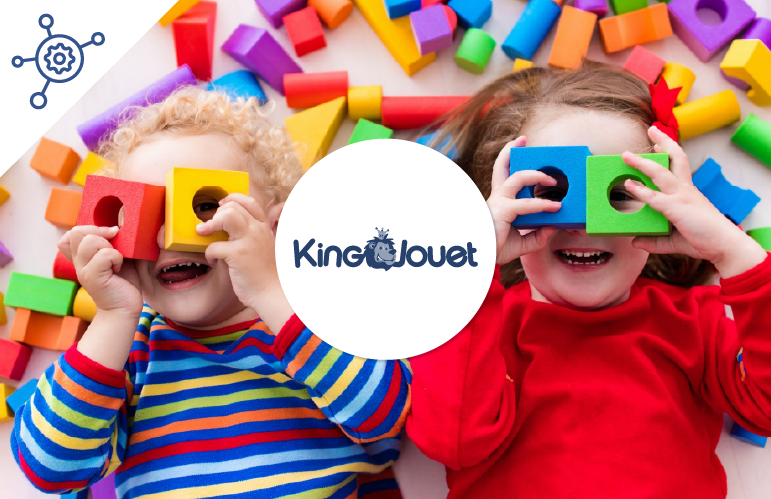 With a large product catalog of both small and big brands, including nearly two dozen exclusive brands, King Jouet is a leading omnichannel toy retailer on the French market. They welcomed the digital age with open arms, with a strong online presence that reinforces their in-store business. With 230 stores in France and 15 stores abroad, they are a leader in the omnichannel services market: e-reservations, click & collect, interactive kiosks, mobile apps, etc.
Historically, King Jouet used RFM & behavioral segmentation methods to target their marketing campaigns; but with their large catalogue and varied product promotions, these methods proved to be inadequate and delivered suboptimal results in revenue & engagement. Moreover, the highly seasonal nature of their activity requires a higher need for flexible marketing campaigns that meet both customer and supplier expectations.
Sandrine Landon, Manager for CRM & Digital Communications at King Jouet, explains: "We needed a campaign intelligence solution to boost our online and offline revenue, with agile campaigns to promote smaller brands and seasonal products as well as our standard catalog offer. We chose Splio for its solution's market-proven capacity to create truly effective campaigns, and the unique capability of its deep learning technology to identify future buyers for all of our products."
With suppliers' demands, seasonal activity, their own revenue goals, and a large product catalog, King Jouet had too many things on their plate; they needed an easy and fast solution to help improve targeting, enhance customer experience and reinforce their relationship with suppliers.
Using Splio' deep learning capabilities, King Jouet was able to run intelligent marketing campaigns and identify future buyers for all of their products and offers in the days following a campaign. They were able to expand their marketing agenda by creating brand new highly targeted campaigns while keeping pressure in check, and even bringing back inactive customers into the fold.
These new intelligent campaigns were more agile and intuitive; they served to highlight a variety of niche products, distributor brands and small-supplier offers, while promoting seasonal offers outside of their paper catalog and generic emails.
Already by the first months, King Jouet experienced on average:
+175 % increase in revenue for all campaign types
+55% increase in number of sales
+67% increase in RPM
+203% increase in sales margins
7% reactivation rate measured among inactive customers, 48% of which purchased in-store
With these new campaigns on deck, King Jouet was able to take their relationship with both large & small suppliers to the next level, offering them highly targeted trade marketing opportunities and also allowing small suppliers to stand out among larger toy brands.
Concludes Landon, "We've seen the results very quickly – not just in terms of financial ROI, but in terms of strategic value," states Sandrine Landon. "Thanks to Splio' solution, we're finding the future customers for our products, and the effect is immediate."
Check out other retail success stories like Manor, BrandAlley and Bazarchic.