What determines customer loyalty?
The repurchase rate that customers continually patronize your brand!
The amount of spending that customers spend more and more on your brand, either repeatedly purchasing the same products or services, either different
The number of referrals that customers recommend your brand or products to people around or via social media
Given the brand saturation in China and the fact that the customer buying cycle is long and sales channels develop fast, brands need to drive customer loyalty and improve retention with a customer-centric strategy. It requires not only a new and creative way to engage with your customers but also strategy, consistency and clear communications to build a long-term customer relationship.
To effectively build long-lasting customer loyalty, brands can focus on boosting your customer experience to meet and even exceed customer expectations and satisfaction. Here are 3 tactics that could help:
1. Learn about and learn from your customers.
Just like all marketing strategies, loyalty program requires critical tailoring to resonate with Chinese customers' unique expectations: Chinese customers are willing to join loyalty programs and want a loyalty program to make them feel special!
Chinese customers are also more willing to share data and receive a personalized experience. They don't hesitate to engage with brands and share their ideas through mobiles. For instance, a Chinese skincare brand CHANDO created an optional survey on WeChat to learn about their loyal customers' age, job, location, product expectations and preferences, daily-used social platforms, other interested brands, etc. In this way, CHANDO can generate their own customer data and thus leverage the data to deliver more personalized and additional services to loyal customers.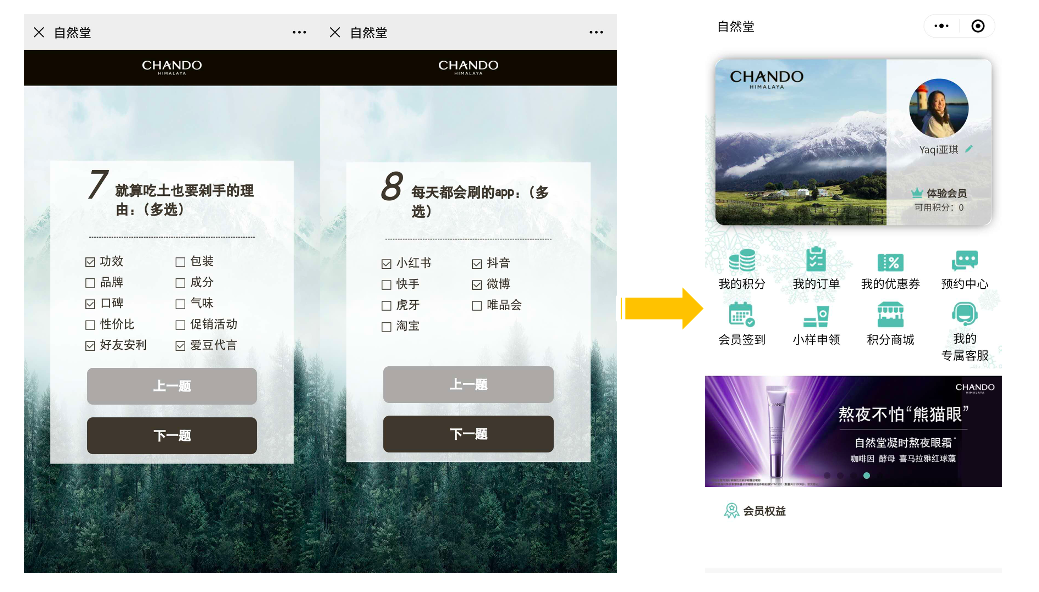 (CHANDO's customer survey and WeChat Loyalty Mini Program)
2. Introduce the VIP tiers and reward diversity.
VIP tiers are a vital moderator and influencer of customer behavior that can be leveraged by brands to boost customer loyalty, drive new or inactivated customers to interact with your brands and increase overall customer lifetime value. By offering different kinds of rewards on each tier, customers are incentivized to earn more points and produce a higher conversion rate.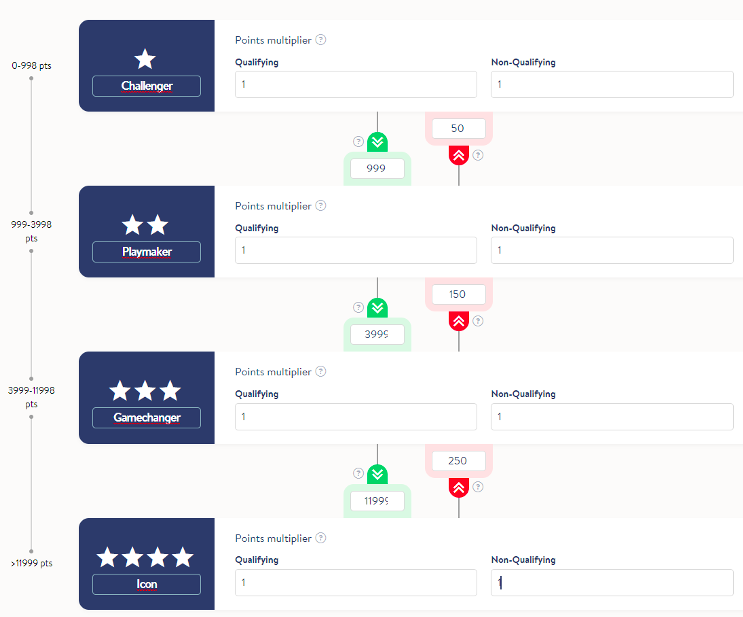 (Tiers setup of Adidas Creators Club Membership on Splio platform)
Brands use data smartly to identify ambassadors by allocating points, VIP access and rewards for non-transactional activities such as follow and bind the brand's social account, complete personal profile, like a post, share the content in the brand's owned community, etc. The types of rewards are equally well diverse that can be coupons, products, samples, gifts, service, customized experience, etc.
3. Optimize brands' referral capacity.
With a strong culture on word-of-mouth marketing, Chinese customers not only trust direct recommendations from their friends, colleagues and family members but also are easy to be endorsed "种草" by KOL (Key Opinion Leader) or KOC (Key Opinion Consumer) from various sources and channels. Brands generally work hard on both sides: optimize the internal referral program and increase the capacity of referral externally.
A mature referral program in China is not limited to send rewards to inviters and invitees, it is also good at using the influence of social platforms such as WeChat, Xiaohongshu, Douyin, etc. to build brands' self-owned customer forums and encourage them to generate motivating and shareable referral content. On the other hand, along with the development of short video and live-streaming, brands insight into the power of KOLs and the efficient transformation from fan economy, being ready to embrace the arrival of "the times that every individual becomes influencer"(全民带货).
Monitor the customer data by yourself.
Chinese consumers reveal a big amount of digital information as new retail and omnichannel shopping are now a reality here. Data ownership is essential to brands that it enables brands to develop a great understanding of what customers are looking for, how to improve the value-added marketing campaigns, and satisfy loyal customers by delivering additional services. That's why brands should have a mature loyalty platform to foster customer relationships and customer loyalty.
Splio uses binding technology to gather fragmented customer information on & offline and build a single customer view through one single platform. You will then be free to segment and engage customers with personalized communications. If you want to know more about Splio New Loyalty Marketing Platform, feel free to contact us!
To get regular insights on how to develop and strengthen your Loyalty strategy in China, scan the QR code to follow us on WeChat!