In a few weeks we will probably assist to the largest shopping event ever.
Last year, Alibaba broke the record by surpassing RMB 213.5 billion of the gross merchandise value (GMV) while the other main eCommerce platform JD.com hit the sales of RMB159.8. However, with the outstanding abilities and performance in traffic driven, customer interaction and transformation, WeChat Ecosystem is another game player in the Double 11. Early in 2017, 44% of mogu.com's transaction was achieved through WeChat as 20 million new users were acquired from Mini Program. In 2018, retail brands such as Coach, Dyson, YSL, Zara, Uniqlo, etc. also used WeChat to facilitate their sales and loyalty strategies for the Double 11, and continue in 2019!
Acquisition from multiple e-commerce platforms could be a strategy for brands to drive sales during the Double 11. But combined with a New Loyalty strategy, it could boost your sales even more. The new focus of brands today should be to expect even more out of the engagement of their loyal customers in order to maximize repeat business.
Here are 3 major marketing tactics to put in place before implementing the marketing plan that brands should leverage for Double 11:
Use WeChat as a hub

where you can meet, identify and engage your customers whatever channel they are coming from

Bind your data on WeChat

so that you can adapt your marketing strategy whether you are dealing with a customer or a follower

Adapt your loyalty mini-program

by rewarding transactions as well as referrals and any interaction your customers are having with your brand to stimulate the sales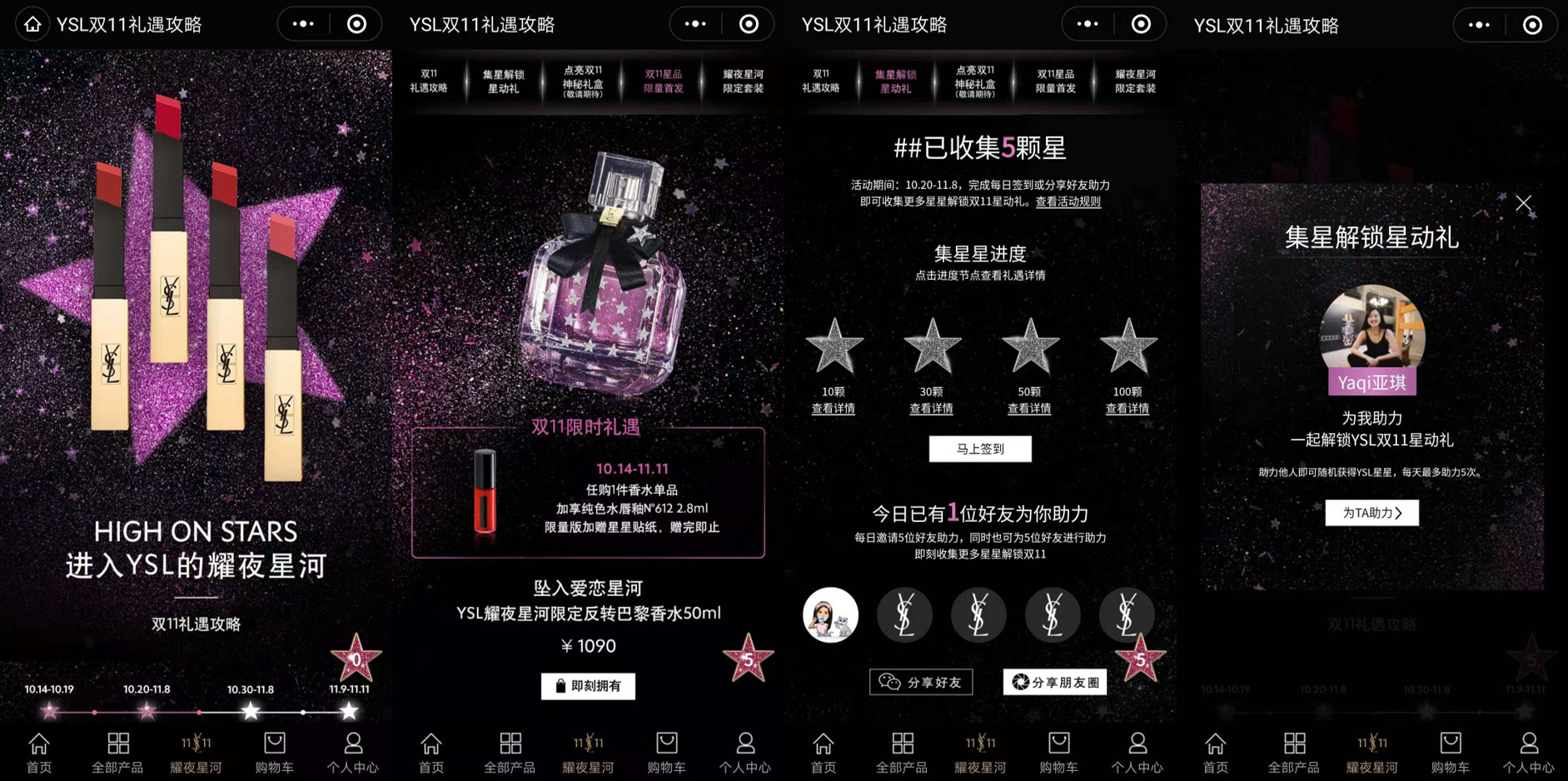 YSL's Double 11 E-commerce and Loyalty Campaigns operated on WeChat
WeChat is definitely the perfect platform to identify individual customer's transactions and spending habits by binding with their Tmall ID, JD.com ID or phone number, as well as to track and reward their social behaviors in order to drive more transactions and make them loyal. In such, marketers should have a WeChat strategic roadmap to ensure that their loyalty strategy will perform before, during and after the Double 11, 2019!
Every consumer is preparing its Double 11 with the best promotions & experiences they can get. The pre-sales period is key and should enable loyal customers to prepare the Double 11 by adding products to their wishlist while brands collect orders with pre-payment to better manage the production process.
Set best-selling product kits and special edition as the main promotional points

Maintain brand activity by launching omnichannel marketing campaigns such as pushing promotion articles via Official Account to drive traffic to WeChat, JD or Tmall stores

Authorize Official Account to use WeChat Red Envelope feature to send cash coupons to OA followers

Send a personalized message to loyalty members via WeChat Loyalty Mini Program with an extra discount coupon and free pre-payment
Enjoy this period to encourage customers to order before the Double 11 Frenzy and reward those who did to buy more.
Work with KOLs to promote the brands and Double 11 promotions

Reward loyalty members who referral the OA promotion articles and pre-sale shopping links to their friends, WeChat Moments or chat groups

Ensure the orders completed by loyalty members during warm-up period will be shipped first
Time for real-time marketing!
Work with live streaming KOLs on multiple platforms to increase the sales

Prepare a free product for customers who will buy more than X pieces

Allocate the coupon randomly by distributing Red Envelope Lucky Draw via Official Account, and enable followers to forward the lucky draw program to friends

Loyalty members will receive a premium gift card and double credits on WeChat Loyalty Program
Nurture the new loyalty members and redeem the credits. It is also another warm-up for the upcoming Black Friday on 29th.
Send thank you messages to loyal members via Loyalty Mini Program

Send dedicated Red Envelopes to the loyalty members who made orders during the Double 11

Encourage members to redeem credits or gifts in the physical stores or online stores to complete the membership profiles such as gender, birthday, etc. and achieve new purchases

Prepare and launch new loyalty campaigns for the coming Black Friday
To get regular insights on how to develop and strengthen your Loyalty strategy in China, scan the QR code to follow us on WeChat!