Cyrillus: AI as a strategic differentiator for marketing
Yesterday we had the pleasure of hosting Jean-Francois Louvieaux, Marketing and e-Commerce Director of Cyrillus, during a conference at Paris Retail Week. While there is a lot of hype around Artificial Intelligence (to a point where the expression 'AI-Washing' as been created as a reference to Green-Washing), it was extremely interesting to hear from a brand present both online and in-store.
Read on to discover how Artificial Intelligence has successfully boosted Cyrillus' marketing campaign results and increased customer experience.
Artificial intelligence as a strategic differentiator for marketing
Cyrillus is a fashion brand who sells via its 52 stores and online. In a highly competitive industry where deeply analyzing customer data and carefully targeting marketing campaigns is already a standard, Louvieaux shared his vision of how to gain competitive advantage through innovation, especially using AI for marketing.
The marketing teams at Cyrillus now use Splio's solution to increase the targeting efficiency of their email campaigns. In the conference room filled with 120 other marketing leaders, Louvieaux explained: "We had to reinforce the proximity with our clients and find a way to get the most perfect match possible between the product we want to promote and our customers' needs. With Splio' solution, our teams can create an extremely efficient campaign targeting within a few minutes. The user interface is very simple and doesn't expose the user to the power and complexity of the Deep AI algorithms, which are the technological core of the solution."
Splio enabled Cyrillus' teams to go from a strategy of fairly generic newsletters containing a selection of many products, to an efficient mix of campaigns where they can insert highly targeted products or thematic emails, leading to extremely satisfying results.
Outstanding results and a new concept: email-to-store
Near the end of the presentation, Louvieaux agreed to share with the 120+ attendees a snippet of the results generated using Splio:
On classical email metrics, campaigns targeted using Splio generated a 17% higher open-rate, in addition to 9% more clicks and a stable unsubscribe rate.
The most important point for retailers is of course the impact on revenue. Cyrillus created a control group to measure with certainty the impact of Splio and its Deep AI on revenue. On average the results are very positive for Cyrillus: Splio' campaigns generated 20% additional revenue.
What I think is extremely interesting for retailers is that Louvieaux shared the fact that the impact of email campaigns was exactly the same on online sales as on purchases in their 52 stores! The reason? "Because Splio identify, with very high accuracy, the customers interested in our offers or products. The email campaigns favor and accelerate the buying process, regardless of the sales channel preferred by our customers. It was extremely important for me to show that digital, and more specifically email, bring traffic and revenue in-store. It is a concept we could name the "email-to-store".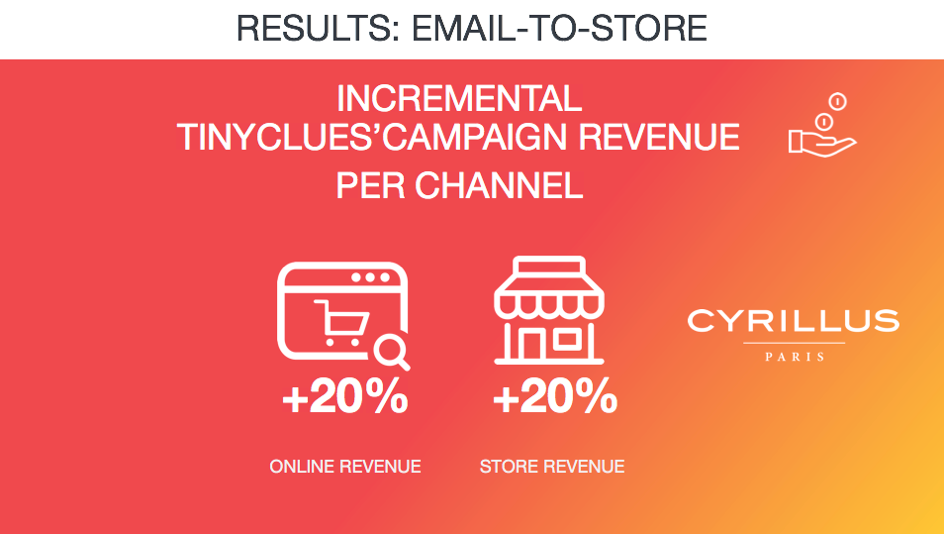 The example of Cyrillus shows that
AI is not just an idea but a concrete reality for retailers,
innovative AI technology can have a very strong impact on your business.
Financial and business benefits
Splio uses advanced Deep AI technology to deeply analyze all the detailed customer data, transactions, web navigations, email behavior, etc to predict the needs of each customer, and then target campaigns solely on the futures buyers. On average, Splio' clients measured (through hundreds of A/B tests or control groups) a 49% increase in the revenue of their CRM campaigns. But the most important point might be the impact on the marketing strategy and on the role of marketers. As Louvieaux confirms, "Splio brings us back to the essence of marketing by allowing us to start our campaigns based on our strategy, on our campaign and promotion plan, on the products we want to sell. We let Artificial Intelligence find the future buyers and optimize the marketing fatigue."