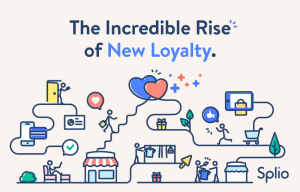 By combining marketing automation and loyalty programs, Splio now helps marketers take advantage of new loyalty.
Paris, September 11th, 2018 – Splio takes the lead in LoyaltyTech and announces the evolution of its omnichannel marketing platform. With the integration of the Splio Loyalty feature, merchants will be able to create and manage classic and relationship-based loyalty programs. By combining CRM, marketing automation and loyalty programs, Splio now empowers marketers to create their own online and offline loyalty programs and coordinate powerful, customized loyalty campaigns.
Splio integrates loyalty program creation and loyalty campaign management without the need for connection or integration with a third-party solution;
Splio is a plug-and-play solution that lets marketers create and deploy loyalty programs on their own, in just a few minutes;
Splio enables the creation of a whole new kind of loyalty program based on customer engagement and online interaction e.g. e-commerce websites, social networks;
Splio increases the sales potential and customer engagement of loyalty strategies for brands seeking to create authentic and lasting relationships with their customers.
"We are very proud to rekindle the enthusiasm for loyalty, to bring it up to date by letting marketers manage their loyalty programs and campaigns by themselves, in just a few clicks, using our platform,"
announces Mireille Messine, Splio's CEO.
"Splio is committed to new loyalty and is launching relationship-based loyalty programs built on customer engagement and online and offline interaction points."
Splio launches a relationship-based loyalty program and awards "interaction points" to ambassadors
In a retail context defined by new loyalty and mobile Internet, new ways of building loyalty aim to be more human, interactive, and seamless. The rise of social media and new consumer habits has led to a reconsideration of brand loyalty, which implies updating loyalty-building techniques. By combining loyalty and marketing, Splio associates transactional loyalty programs with relationship-based loyalty programs.
Relationship-based loyalty programs enable marketers to harness the potential of all online interactions with their customers (Facebook likes, Instagram likes, click rates on email campaigns), to create a community, reward ambassador engagement, and combine classic loyalty points with interaction points.
Geoffrey Bruyère, founder and CEO of BonneGueule, is an Early Adopter of Splio Loyalty.
"Turn transactions into customer relationships, transition from rewarding to recognition: at BonneGueule, we pay a lot of attention to engaged customers, our community, and our online and in-store interactions. Systematically clicking on the links in our newsletters, discussing in our blog comments, participating in our brain-storming sessions: we want to give our ambassadors the place they deserve within the community, regardless of how much they buy. Loyalty also means commitment."
The business potential of new loyalty
Marketers feel the financial need to build loyalty earlier and earlier and increasingly fast. Building loyalty is more profitable than customer acquisition: increasing loyalty by 5% increases profits by 25 to 55%. With Splio, marketers control loyalty programs and measure customer engagement on social media and through email campaigns to reward points and advantages. The platform also enables brands to identify potential ambassadors in order to encourage them to participate in the brand community.
The Splio platform gives marketers all the advantages of new loyalty by combining transaction and interaction, customer experience and community, business potential and customer engagement, in the framework of a powerful and respectful customer marketing strategy.
A user-friendly, agile and comprehensive platform for today's marketers
Splio is an all-in-one marketing platform from which marketers can easily coordinate marketing campaigns based on customer data and, now, create loyalty programs on their own without the need for a third-party solution.
"The platform is user-friendly, easy-to-use, pleasant and quickly understood—especially when you compare this platform with those designed by bigger companies with complex, difficult-to-integrate tools. We don't waste time trying to understand how it works. It's practically plug-and-play!"
says Julia Foucher, CRM manager, Le Slip Français.
About Splio
Splio provides marketers with an omnichannel marketing platform that combines marketing automation and loyalty marketing enabling brands to orchestrate powerful online and offline marketing campaigns. Splio has built its platform on customer knowledge and advocates loyalty marketing to its customers to boost their turnover.
More than 500 brands around the world use Splio every day, including The Kooples, Kusmi Tea, Givenchy, Caudalie, Degrenne, Intersport, Nice Things Paloma S., Lindt, Air China and Cache Cache.
Splio was founded in 2001 by Louis Rouxel and Raphael Jore. Mireille Messine, CEO, has directed the company since 2014. Splio has 130 employees and 7 offices across Europe, China, and Brazil. The company raised €10 million in October 2016 from Amundi, BNP, and BPI to support international growth and in particular to develop the Europe-China connection. Splio is one of Europe's top Inc. 5000 high-growth companies and benefits from the French Tech Pass.
Press contacts:
Sandra FERNANDES
Marketing et Communications Director, Splio
sfernandes@splio.com
Clémence REBOURS
PR Director, Nouvelles Graines
crebours@nouvelles-graines.com