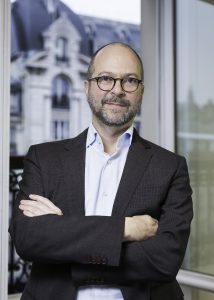 Splio strengthens product marketing and digital capabilities to reinforce its C2B strategy and support international growth.
Paris, August 30, 2018 – Splio announces the appointment of Charles Wells as Chief Marketing Officer, underlining the group's objective to develop its digital and international marketing activities. In the near future, Splio will also make additional announcements that reflect a focus on product innovation.
"Charles Wells joined us to advance our C2B marketing vision,"
says Splio CEO, Mireille Messine.
"His product expertise and his global connections make him the ideal person to communicate about our platform to marketers around the world."
More than 30 years of tech and digital marketing expertise
After holding several positions in digital marketing as a Chief Product Officer in Europe, the United States, and the Middle East, Charles Wells made a three-year venture into the e-commerce sector where he acquired new ideas, including valuable insight into the intricacies of e-marketing and the complexity of building a harmonized omnichannel marketing strategy. Bolstered by this newly acquired knowledge, he returned to loyalty marketing, joining the management team at Splio.
"Thanks to a platform that is perfectly adapted to meet the ever-changing needs of the market, Splio has been able to attract great brands over the years. The company has, thus far, been focused on developing a robust and market-driven platform. It has now reached a stage where increased investment in marketing is required to go to the next level. I am delighted to join the Splio adventure by putting my experience and knowledge of product and digital marketing at the service of this excellent example of the best in French Tech,"
explains the new CMO.
Online. Offline. Aligned.
Charles Wells' first task is to design a global marketing and communication strategy for the group. Already, he was at the forefront of the group's rebranding effort undertaken this year, which aims to reposition the brand on the market by reworking products and pushing a more up-to-date visual identity. The new logo, the new tagline "Online. Offline. Aligned," and the new website position Splio as the leading omnichannel loyalty marketing platform totally focused on on- and offline convergence based on customer insight.
Product innovation and a CRM category nomination at the 2018 Paris Retail Awards
The addition of new industry-first features has increased innovation and functionalities delivered by the Splio platform, giving Charles Wells a strong base to position the product as a market and technological frontrunner, one that provides a path towards success for brands in all sectors.
The presence of Splio at booth V101 at the Paris Retail Week will be highlighted by an impressive product announcement. The platform is also a finalist in the CRM category of the 2018 Paris Retail Awards "from lead to customer," a reflection of Splio's new focus on the loyalty marketing industry.
For interview requests, please contact the press service below.
About Splio
Splio provides marketers with an omnichannel marketing platform that combines marketing automation and loyalty marketing enabling brands to orchestrate powerful online and offline marketing campaigns. Splio has built its platform on customer knowledge and advocates loyalty marketing to its customers to boost their turnover.
More than 500 brands around the world use Splio every day, including The Kooples, Kusmi Tea, Givenchy, Caudalie, Degrenne, Intersport, Nice Things Paloma S., Lindt, Air China and Cache Cache.
Splio was founded in 2001 by Louis Rouxel and Raphael Jore. Mireille Messine, CEO, has directed the company since 2014. Splio has 130 employees and 7 offices across Europe, China, and Brazil. The company raised €10 million in October 2016 from Amundi, BNP, and BPI to support international growth and in particular to develop the Europe-China connection. Splio is one of Europe's top Inc. 5000 high-growth companies and benefits from the French Tech Pass.
Press contacts

Sandra FERNANDES

Marketing & Communications Director

+33 6 46 46 43 16

 

Clémence REBOURS

Nouvelles Graines

crebours@nouvelles-graines.com

+33 6 60 57 76 43